AVC 2015
If you've been before, get excited, because the AVC will be a bit different this year. If you've never been, you're in for a treat! This year the AVC will be held at SparkFun HQ in Niwot, CO, on Saturday, June 20th, 2015.
For 2015 we've decided to limit the competition to ground vehicles only. Sad but true - for safety and liability reasons (we can hear those of you who narrowly escaped beheading by rogue quadcopter last year nodding like lunatics), there will be no aerial competition this year. However, we will be hosting a brand new event: Antweight and Beetleweight Combat! For more information, click here.
The ground course will remain largely the same, but the point structure will change a bit. We're adding bonuses for vehicles that don't use GPS, and we'll have a shortcut on the course that will save you a lot of time, if you can get through it! Check the full rules for more details.
Student teams are also encouraged to enter. You can enter in any class, as long as your vehicle is 80% completed by students. When registering, let us know what school your team is affiliated with.
Registration to enter AVC 2015 as a competitor closes Friday, May 29!
---
---
Combat Robots
This year we are hosting ROBOTIC COMBAT! That's right, bring your 1lb or 3lb fighting robots (antweight and beetleweight) for a fight to the death (or at least until time runs out). To keep things standard we are adopting and following the rules set forth by the SPARC organization.
Ground Vehicle Classes
Each entrant will be classified by the judges as falling into one of the following robot classes for their ground vehicle:
Micro/PBR - Less than $350 total spent, or small enough to fit into box that's 10"x6"x4"
Doping Class - Bring the biggest, baddest and most expensive vehicle you can make ($1k+ or 25lbs+)
Non-Traditional Locomotion - Have a walker? A modified autonomous self-balancing pogostick? A motorized hamster ball? This designation is for you.
Peloton - All remaining vehicles that don't fit into any other class
---
The Course
Video Walkthrough
Course preview coming soon!
Course Map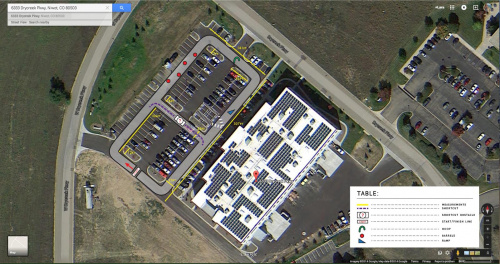 This is the map your ground 'bot must be able to navigate. Click to embiggen! The course will be held at our headquarters. GPS coordinates are NOT provided for this year, it's up to you to use information from Google Maps to determine the correct GPS waypoints.
Obstacle Breakdown
While running the ground course you will encounter several obstacles. The dimensions for the obstacles can be found below. The main stanchions and the barrels are red (Rustoleum "Apple Red"), and the stanchions for the corners are yellow (Rustoleum "Sun Yellow"). The hoop is green (Rustoleum "Hunter Green"), and the ramp is a beautiful blue (Rustoluem "Sail Blue").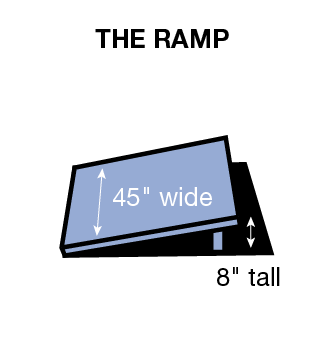 2015 Prize List
The prizes for this year:
Student Class:
1st - $250
2nd - $100
3rd - $50
Micro/PBR:
1st - $250
2nd - $100
3rd - $50
Peloton:
1st - $250
2nd - $100
3rd - $50
Non-Traditional Locomotion:
1st - $250
2nd - $100
3rd - $50
Doping Class:
1st - $500
2nd - $250
3rd - $100
Antweight Combat
1st - $250
2nd - $100
3rd - $50
Beetleweight Combat
1st - $250
2nd - $100
3rd - $50