AVC 2009 First annual - April 15th, 2009
SparkFun's first annual Autonomous Vehicle Competition was held April 15th, 2009 at SparkFun Headquarters in Boulder, CO.
Our first year saw 13 rovers and 3 aerial vehicles. Of them, 8 rovers ended up competing (stuff always breaks at the last minute) and one UAV ended up in a very tall tree. The fire department got involved.
Being the first AVC ever this event was highly experimental. Nobody really knew what to expect. Much was learned by staff and competitors alike. Many competitors returned in 2010 armed with knowledge and experience.
As everyone adjourned to the Dark Horse for a beer at the day's end it was clear: the AVC would grow and thrive in the years to come.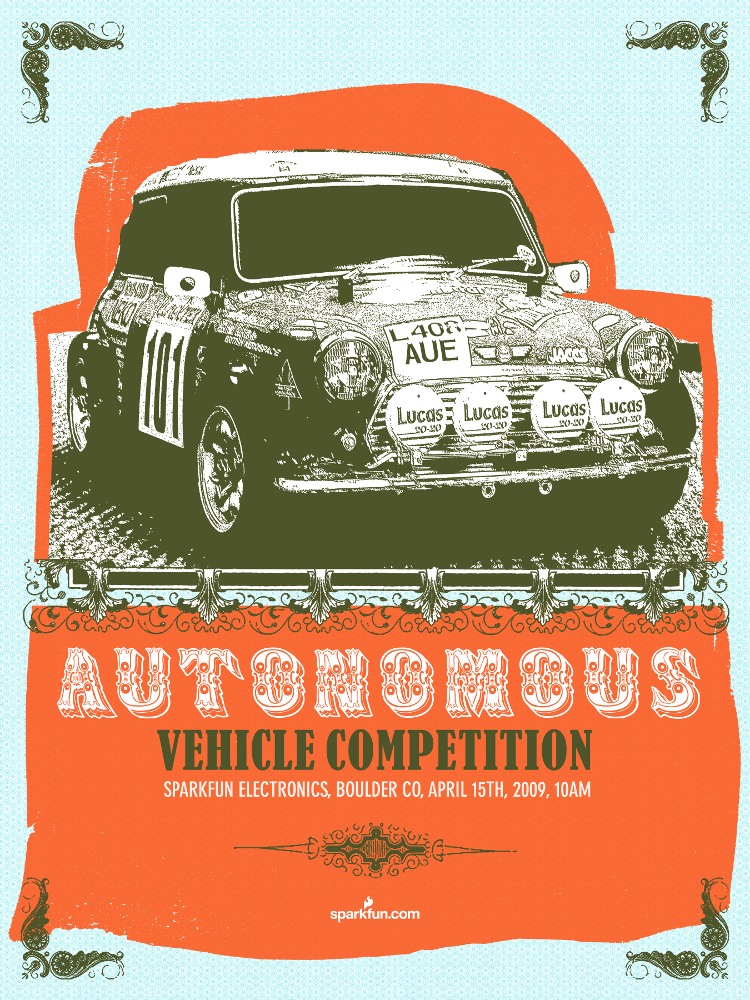 Winners
All Vehicles (Air and ground competed together in 2009)
| Place | Team | Type | Official Time |
| --- | --- | --- | --- |
| 1st | DIY Drones II | Aerial | 36 seconds |
| 2nd | DeathPod3000 | Ground | 1 minute and 32 seconds |
| 3rd | Team Rad | Ground | Did not finish* |
*Only two teams completed the circuit so third place went to the team that made it the farthest around the building without finishing. Team Rad executed three of four turns before crashing into a curb.
Special Awards
| | |
| --- | --- |
| Engineer's Choice · Best technical design | DeathPod3000 |
| Crowd's Choice · Most entertaining | Tinkerbell |
| Kill Switch Award · Most dangerous | SWOSUME |
| Water Hazard Award · Finds the pond and/or stream | OhCrapThere'sALake |
---
Official Rules
One Lap. Start line to be determined on race day. Shortest time wins.
You get three attempts within 1 hour of your scheduled start. Best time of the three laps will be used.
You must chronicle your vehicle build. At least one picture per meeting/work session. Pictures must be submitted on race day.
In-house SparkFun teams are not allowed to spend more than $300 on their vehicle, but the general public is simply encouraged to think "lite". You are welcome to find/re-use any parts you can find/get donated.
No base stations allowed. All computation must be made from within the confines of the mobile platform (think DARPA).
No environmental modifications allowed. For example, you cannot install IR LEDs around the building or put a 3" wide strip of tape on the asphalt.
Bots start separately. No mass start.
We plan on an exhibition lap with a mass start just to see how it goes.
Definition: around the building - bot must go around the external four main walls of the SparkFun building. You pick the course and direction.
Rules are subject to change on a whim - or if one of the SparkFun engineers (Chris Taylor) tries to cheat.
Autonomous means your bot/car/plane/heli has to drive itself. You press the start button, three seconds later the robot begins navigation under its own control. There can be no human interaction. The car cannot receive any commands over any medium from a human operator. It is allowed to transmit debug information and receive any other signals (GPS, proximity, etc).
If the weather decides not to cooperate (if it snows more than a few inches), we will move the competition indoors. Do not depend on GPS too heavily...
Media
Race Day Photos
Course Preview Video
Recap Video